New World Vista Views Locations & World Paintings [ORIGINAL]
Lets take a look at all Vista Views locations and what World Painting they offer as a reward.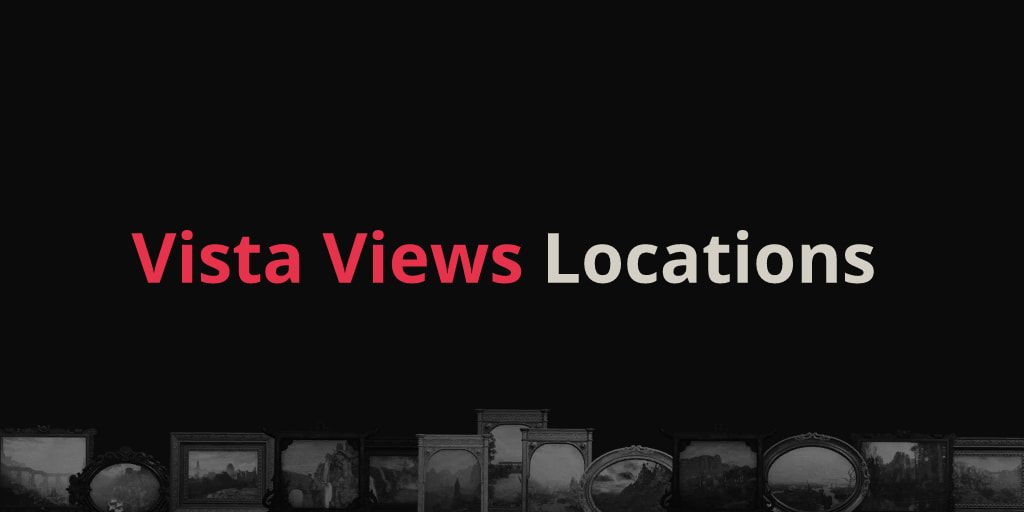 Two easels can be found in each territory. Upon interacting with these easels, players will be given a painting of the view for their house. If a player loses their painting they can reacquire it by visiting the same easel again 24 hours later. You can find a list of all easels here.
Locations
You can visit the page linked for each easel below to see the exact location on the map.

First Light
[gatherable_explorevista_southfirstlight01] - [item_house_housingitem_explorevista_painting_southfirstlight01]
[gatherable_explorevista_northfirstlight01] - [item_house_housingitem_explorevista_painting_northfirstlight01]
Windsward
[gatherable_explorevista_northwindsward02] - [item_house_housingitem_explorevista_painting_northwindsward02]
[gatherable_explorevista_northwindsward01] - [item_house_housingitem_explorevista_painting_northwindsward01]
Everfall
[gatherable_explorevista_westeverfall01] - [item_house_housingitem_explorevista_painting_westeverfall01]
[gatherable_explorevista_easteverfall01] - [item_house_housingitem_explorevista_painting_easteverfall01]
Cutlass Keys
[gatherable_explorevista_westcutlass01] - [item_house_housingitem_explorevista_painting_westcutlass01]
[gatherable_explorevista_eastcutlass01] - [item_house_housingitem_explorevista_painting_eastcutlass01]
Monarch's Bluffs
[gatherable_explorevista_southmonarchs01] - [item_house_housingitem_explorevista_painting_southmonarchs01]
[gatherable_explorevista_northmonarchs01] - [item_house_housingitem_explorevista_painting_northmonarchs01]
Brightwood
[gatherable_explorevista_southbrightwood01] - [item_house_housingitem_explorevista_painting_southbrightwood01]
[gatherable_explorevista_northbrightwood01] - [item_house_housingitem_explorevista_painting_northbrightwood01]
Weaver's Fen
[gatherable_explorevista_northweavers02] - [item_house_housingitem_explorevista_painting_northweavers02]
[gatherable_explorevista_northweavers01] - [item_house_housingitem_explorevista_painting_northweavers01]
Edengrove
[gatherable_explorevista_westedengrove01] - [item_house_housingitem_explorevista_painting_westedengrove01]
[gatherable_explorevista_eastedengrove01] - [item_house_housingitem_explorevista_painting_eastedengrove01]
Great Cleave
[gatherable_explorevista_eastcleave01] - [item_house_housingitem_explorevista_painting_eastcleave01]
[gatherable_explorevista_westcleave01] - [item_house_housingitem_explorevista_painting_westcleave01]
Mourningdale
[gatherable_explorevista_westmourningdale01] - [item_house_housingitem_explorevista_painting_westmourningdale01]
[gatherable_explorevista_southmourningdale01] - [item_house_housingitem_explorevista_painting_southmourningdale01]
Ebonscale Reach
[gatherable_explorevista_southebonscale01] - [item_house_housingitem_explorevista_painting_southebonscale01]
[gatherable_explorevista_northebonscale01] - [item_house_housingitem_explorevista_painting_northebonscale01]
Shattered Mountain
[gatherable_explorevista_southshattered01] - [item_house_housingitem_explorevista_painting_southshattered01]
[gatherable_explorevista_eastshattered01] - [item_house_housingitem_explorevista_painting_eastshattered01]
Restless Shore
[gatherable_explorevista_southrestless01] - [item_house_housingitem_explorevista_painting_southrestless01]
[gatherable_explorevista_midrestless01] - [item_house_housingitem_explorevista_painting_midrestless01]
Reekwater
[gatherable_explorevista_southreekwater01] - [item_house_housingitem_explorevista_painting_southreekwater01]
[gatherable_explorevista_northreekwater01] - [item_house_housingitem_explorevista_painting_northreekwater01]